What's the difference between a
gas scooter
and gas moped? I am sure you have asked yourself this question at one point or another. What do I call my
Honda Express
? Moped, Scooter, or both? I hope to draw a distinction between the two terminologies and introduce some new ones to you.
To the moped novice these two terms could be used interchangeable. You will find that many moped for sale online websites that will say they have cheap mopeds for sale, but in all actuality… they are all 2000 and up models of scooters. That kinda' ticks me off. When I think moped, I think vintage 1970's or
1980 Honda
, Puch, Motobecane, Peugeot, etc. I don't think of 2009 i-scooters like Baja, Speedster, Ezip, etc. For many, just looking at a picture will tell you immediately if it is a moped or scooter.
Term MOPED
:
The source of the term "moped" is motor-pedal. Fundamentally it can be described as a combination of a bicycle and motor, thus making a powered bicycle. Traditionally they are a step-through design where the rider doesn't have to step over a cross-bar to get on the moped. On almost all vintage model mopeds, like the
Honda Hobbit PA50I and PA50II
, you would start the moped by peddling and using the choke. Also, like the Honda Hobbit model there is a transmission switch on the rear gear box that allows transferring motor power from the moped engine to the moped's pedals. This allows the rider to pedal the moped just like a one-speed bicycle. Most mopeds are designed with two-wheels; although, many have been designed with three or four wheels and classified as mopeds. The normal engine displacement of a moped is 49cc's and are restricted to 30 miles per hour (mpg), with a few variations. The "legal" classification can vary state-by-state. Many government organizations like your local Department of Motor vehicles will label
mopeds and scooters
as both mopeds. It makes since in many ways, otherwise they would have to require two separate registration plates and forms.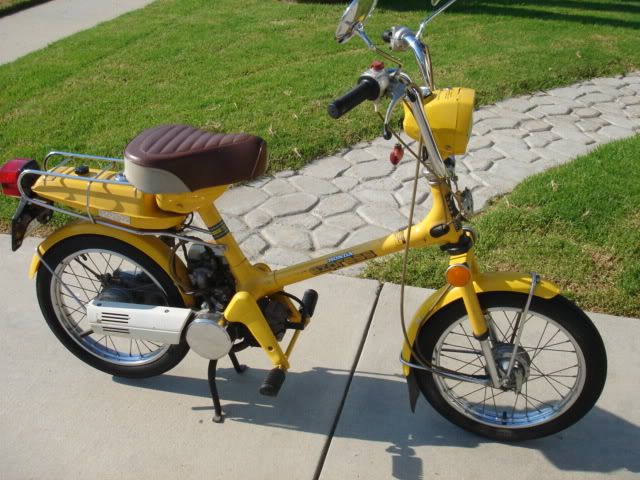 Term SCOOTER:
A scooter is a smaller (less powerful) version of a motorcycle with the rider rests their feet on peds or foo
trests that are supported by the bodywork. Again, scooter many times provide step-through ability for the rider and don't require rider to step-over a cross bar like a bicycle. Scooter is more of a newer term that can be used for classifications of 1990's and 2000's models. They are created for low-power short distance and duration travel with engines between 250cc and 50cc. There are exceptions like the Maxi scooters with engines from 250cc to 800cc.
Term NOPED:
This is a relatively newer term I have heard to classify the gray area of mopeds and scooters. For instance, the vintage
1978 Honda Express nc50 moped
does not have moving pedals to start the ignition. Instead, the express has pegs for the rider to place their feet on during travel and ignition is performed by a ratchet pedal that stores tension and is release to turn-over the engine.
Term PED:
This term is used as a general moped and scooter term among moped rider clubs, groups and owners. This term is nice because is general use and bridges the gap between mopeds with and without peddles.
I hope this sheds some light on the classification and terminology you use to communicate you favorite moped, scooter, noped, ped, etc. You will find lots more information on
Honda Mopeds and Scooters
on this site.